The European initiative EHR4CR – Lessons learned for EHR implementations in Africa
Abstract
Nowadays, more and more clinical data are documented in electronic health records and are thus available in digital form. With the aim of re-using these data for clinical research, a European consortium consisting of 35 partners from academia, clinics, pharmaceutical companies and subcontractors initiated the project "Electronic Health Records for Clinical Research" (EHR4CR). Three different services are envisaged to be supported for the design and implementation of clinical trials using a single platform: Clinical protocol feasibility, Patient identification and recruitment, Clinical trial execution and Serious adverse event reporting. Four different working groups focus on the following areas: Specifications and Business Model development, Technology Platform and Tools including semantic interoperability and data protection/security, Pilot Activities and Reference Site coordination as well as communication, dissemination and project management. It became apparent that one critical issue to reuse clinical data is the availability of structured, standardized data elements at the hospital sites.
African countries that are currently implementing or planning to implement EHRs are strongly advised to make use of medical terminologies and data dictionaries when designing their systems. Medical documentation should be as structured as possible and interfaces be made available in order to reuse clinical data for reporting or research purposes. A common data inventory for medical documentation and health management reporting could be a starting point.
Downloads
Download data is not yet available.
References
Häyrinen K, Saranto K, Nykänen P. Definition, structure, content, use and impacts of electronic health records: a review of the research literature. Int J Med Inform. 2008 May;77(5):291-304.
Prokosch HU, Ganslandt T. Perspectives for Medical Informatics - Reusing the Electronic Medical Record for Clinical Research. Methods Inf Med 2009; 48: 38–44
Coorevits P1, Sundgren M, Klein GO, Bahr A, Claerhout B, Daniel C, Dugas M, Dupont D, Schmidt A, Sin-gleton P, De Moor G, Kalra D. Electronic health records: new opportunities for clinical research. J Intern Med. 2013 Dec;274(6):547-60.
Doods J, Botteri F, Dugas M, Fritz F, EHR4CR WP7. A European inventory of common electronic health record data elements for clinical trial feasibility. Trials. 2014 Jan 10;15:18.
Aiga H. Kuroiwa C. Takizawa I. Yamagata R. The reality of health information systems: Challenges for standardization. Biosci Trends. 2008;2:5–9.
Akanbi MO, Ocheke AN, Agaba PA, Daniyam CA, Agaba EI, Okeke EN, Ukoli CO. Use of Electronic Health Records in sub-Saharan Africa: Progress and challenges. J Med Trop. 2012;14(1):1-6.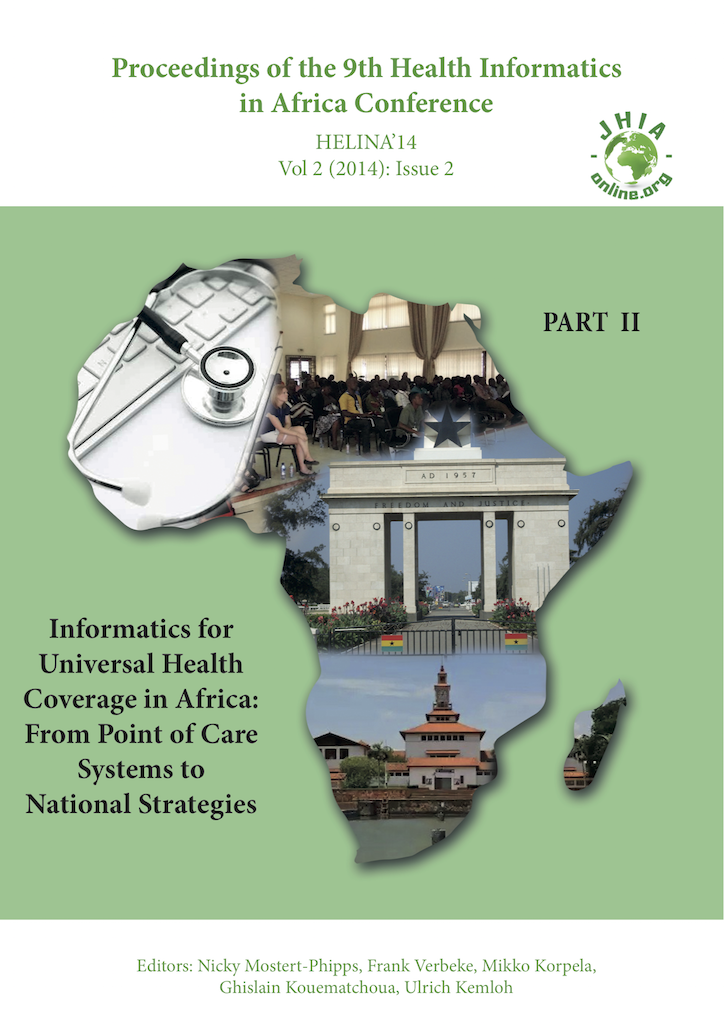 Downloads
How to Cite
Fritz, F. G., Doods, J., Soto Rey, I., Tilahun, B., & Dugas, M. (2015). The European initiative EHR4CR – Lessons learned for EHR implementations in Africa. Journal of Health Informatics in Africa, 2(2). https://doi.org/10.12856/JHIA-2014-v2-i2-101