When Information Technology meets Healthcare in West Africa: A Literature Review
Abstract
Introduction: This paper presents the study and analysis of some articles that were selected according to their potential contributions to the introduction of information technology (IT) in the Healthcare industry in West Africa. A total of nineteen papers published in various journals were analysed after their titles and abstracts were reviewed.

Objective: The aim of this paper is to find out on how the introduction of information technology can transform the healthcare delivery in West Africa.

Methods: Keywords were used to select online articles that focus on the ways in which the use of information technology has improved or is yet to improve the provision of better healthcare in West Africa.

Results and Conclusions: Information technology has a very bright future for healthcare managers, practitioners and the industry as a whole in West Africa when all the known challenges either politically-based or economy-based are removed.
Downloads
Download data is not yet available.
References
Achampong EK, "The State of Information and Communication Technology and Health Informatics in Ghana." Online journal of public health informatics; 4.2, (2012). pp 1-18
Benjamin, P. (2010). Cellphones 4 HIV. mHealth potential in South Africa: The Experience of Cell-Life, http://www. cell-life. org/images/downloads/Cell-Life_Organisation_Poster. pdf (accessed 2010).
Benson MB, DHA AC, "Hospital Information Systems in Nigeria: A Review of Literature." The Journal of Global Health Care Systems; 1.3, (2011). Pp 1 -26.
Blaya JA, Fraser HSF, Holt B, "E-health technologies show promise in developing countries." Health Affairs 29.2 (2010): 244-251.
Clifford, GD., et al. "Medical information systems: A foundation for healthcare technologies in developing countries." BioMedical Engineering OnLine 7.1 (2008): 18.
Cohen J, Bancilhon JM, Jones M, "South African physicians' acceptance of e-prescribing technology: an empirical test of a modified UTAUT model." South African Computer Journal 50 (2013): 43-54.
Corr P, "Teleradiology in KwaZulu-Natal." S Afr Med J 88 (1998): 48-49.
Datta P, et al. "The neglected continent of IS research: A research agenda for sub-Saharan Africa." Journal of the Association for Information Systems; 6.5 (2005): 6.
Fraser HSF, McGrath SJD. "Information technology and telemedicine in sub-Saharan Africa." Bmj 321.7259 (2000): 465-466.
Hersh W, Wright A "What Workforce is Needed to Implement the Health Information Technology Agenda? Analysis from the HIMSS Analytics™ Database." AMIA Annual Symposium Proceedings. Vol. 2008. American Medical Informatics Association, 2008.
Idowu P, Cornford D, Bastin L, "Health informatics deployment in Nigeria." Journal of Health Informatics in Developing Countries; 2.1 (2008).
Korpela M, Nigerian practice in computer systems development: A multidisciplinary theoretical framework, applied to health informatics. Helsinki University of Technology, 1994.
Mbarika, V. W. A., Okoli, C., Byrd, T. A. and Datta, P. (2005) The Neglected Continent of IS Research: A Research Agenda for Sub-Saharan Africa. Journal of the Association for Information Systems, Vol. 6, No.5, pp.130-170
Odusote, K. et al, "West Africa's Regional Approach to Strengthening Health Workforce Information." CapacityPlus IntraHealth International (2012)
Ogunyemi O, CEDRIC: A Computerized Chronic Disease Management System for Urban, Safety Net Clinics, MEDINFO 2010: Proceedings of the 13th World Congress on Medical Informatics Volume; (2010) 160 208-212
Olatokun C, Adeboyejo C, Information and Technology Use by Reproductive Health Workers in Nigeria; State of the Art, Issues and Challenges. Human technology; (2009) 5.2, 181–207
Talbot, David. "The mPedigree Network, based in Ghana, lets people determine with a text message whether their medicine is legitimate." MIT Technology Review (2013): 48-49.
Pakenham-Walsh, N, and Bukachi, F, Information needs of health care workers in developing countries: a literature review with a focus on Africa. Human Resources for Health; (2009) 7.30
Rotich, J. K., et al. "Installing and implementing a computer-based patient record system in sub-Saharan Africa: the Mosoriot Medical Record System." Journal of the American Medical Informatics Association 10.4 (2003): 295-303.
Zennaro F, et al. "Digital radiology to improve the quality of care in countries with limited resources: a feasibility study from Angola." PloS one; 8.9 (2013): e73939.
Zurovac D, Talisuna AO, Snow RW, "Mobile phone text messaging: tool for malaria control in Africa." PLoS medicine 9.2 (2012): e1001176.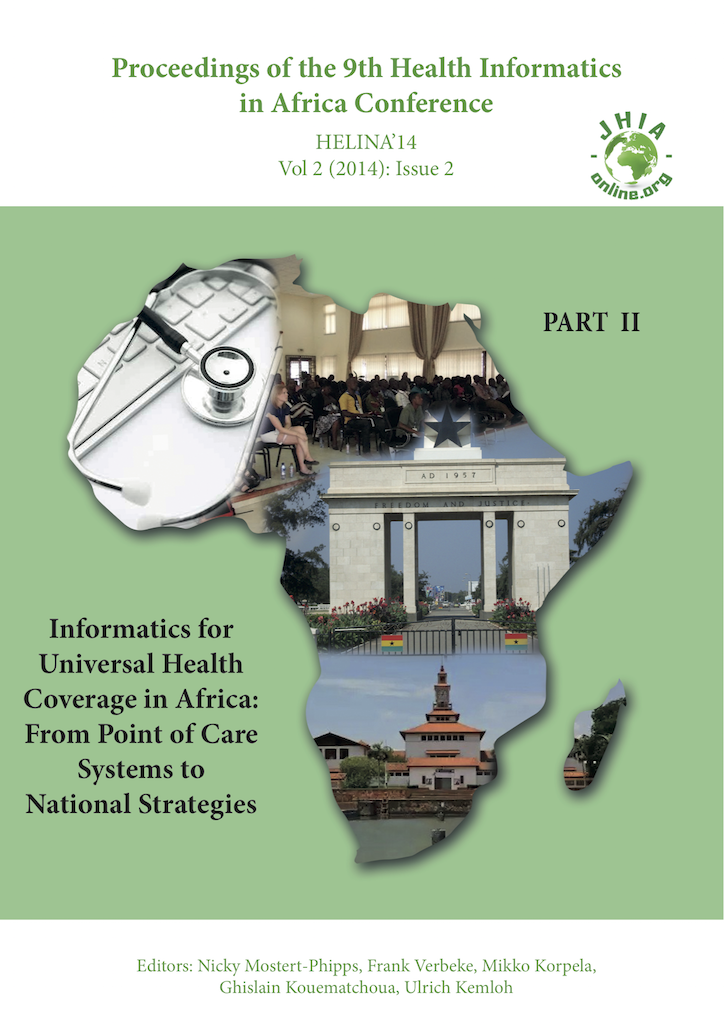 Downloads
How to Cite
Marful, W. A., & Winter, A. (2015). When Information Technology meets Healthcare in West Africa: A Literature Review. Journal of Health Informatics in Africa, 2(2). https://doi.org/10.12856/JHIA-2014-v2-i2-104