Editorial
Abstract
The Journal of Health Informatics in Africa is the official journal of the Pan African Health Informatics Association (HELINA) and publishes the proceedings of the HELINA conferences, as well as open-call issues. This issue is an open-call issue comprising of four papers submitted directly to the journal. These papers have been double blind peer-reviewed before being accepted for publication. Although papers written in French are also published by the journal, all four papers in this issue was written in English.
The papers all fall within the scope of JHIA – the use of information and ICTs in the healthcare sector in the broad sense in Africa. The focus of these papers range from leveraging cloud technology for reporting purposes in Ghana, mobile solutions for the management of HIV/AIDS, the process of IS integration in a resource constrained context, to a review of research focused on diabetes information retrieval.
This issue then concludes volume 4 of JHIA. Thank you to the editorial team, authors, and peer-reviewers that made this issue possible.
Downloads
Download data is not yet available.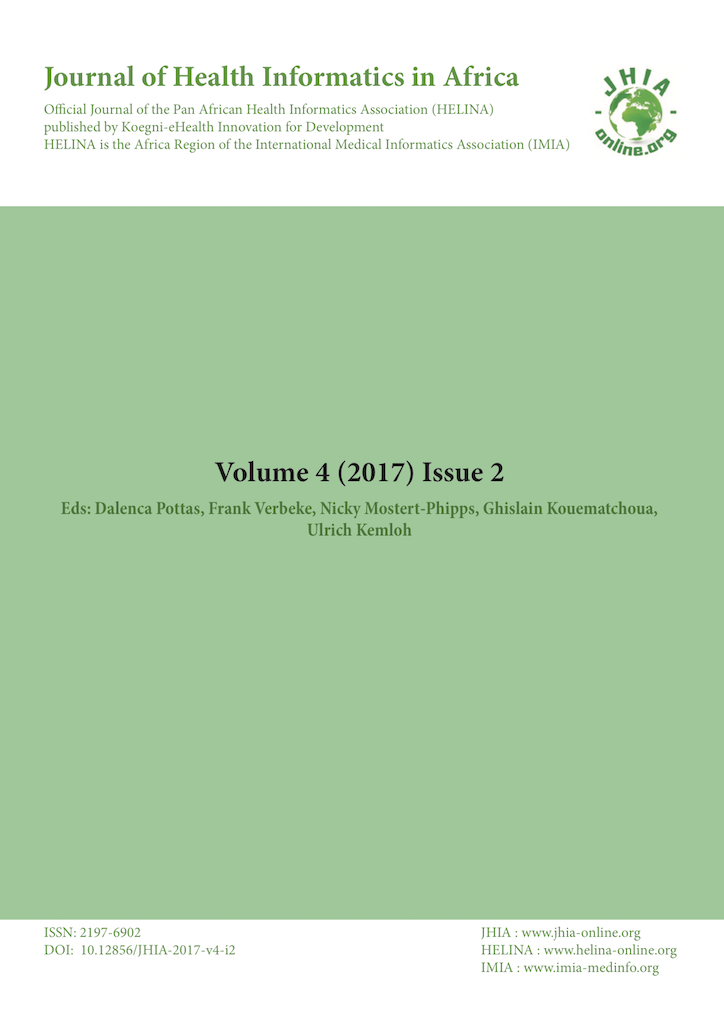 Downloads
How to Cite
Mostert-Phipps, N. (2018). Editorial. Journal of Health Informatics in Africa, 4(2). Retrieved from https://jhia-online.org/index.php/jhia/article/view/189