Managing Patient Identification in Uganda's Health Facilities
Examining Challenges and Defining Requirements for a National Client Registry
Abstract
Background and Purpose: Managing accuracy to identify any patient is very crucial in ensuring continuity, quality and coordination of their healthcare over time. Patient identification management (PIM) in healthcare is still a challenge in Uganda for both public and private healthcare institutions including insurance companies using different mechanisms to uniquely identify clients. This deters PIM and individual health data linkage across healthcare organizations. An integral part of individual health data linkage and health information exchange (HIE) process across healthcare organizations is verification and/or validation of a client's identity. This vital service can be provided by an administrative electronic health information system known as a client registry (CR). A CR is a central electronic database that holds patient identifying information and demographics with a mechanism to uniquely identify each of them using select identifying information such as unique identifiers within a given territory. Consequently, in preparation for the establishment of a National CR (NCR), we needed to first examine the current mechanisms used and the challenges faced in PIM in Uganda's health facilities. The NCR is envisaged to facilitate and harmonize PIM and HIE in Uganda's healthcare system.
Methods: A cross-sectional study was conducted to document the mechanisms used for and challenges facing PIM in Uganda and define NCR requirements. The Design Science Research (DSR) approach was employed to achieve the overall study aim with a much broader goal beyond this paper. Specific to this paper, the research question for which the methods and results presented was formulated under stage two of the DSR six-step process model. 35 key informant interviews with purposively selected representatives from select organizations and health facilities were conducted.
Results: Majority of health facilities use either paper-based or a combination of both paper-based and electronic tools to register clients, manage their identities and data. Key challenges reported facing PIM relate to data storage, retrieval, client identity verification, and tracking. These translated into four key NCR requirements that can facilitate PIM and HIE in Uganda's healthcare system.
Conclusions: The study proves that there is need to address the various PIM challenges; as such our next steps are to establish actual NCR requirements/services in order to harmonize PIM across Uganda's health facilities.
Downloads
Download data is not yet available.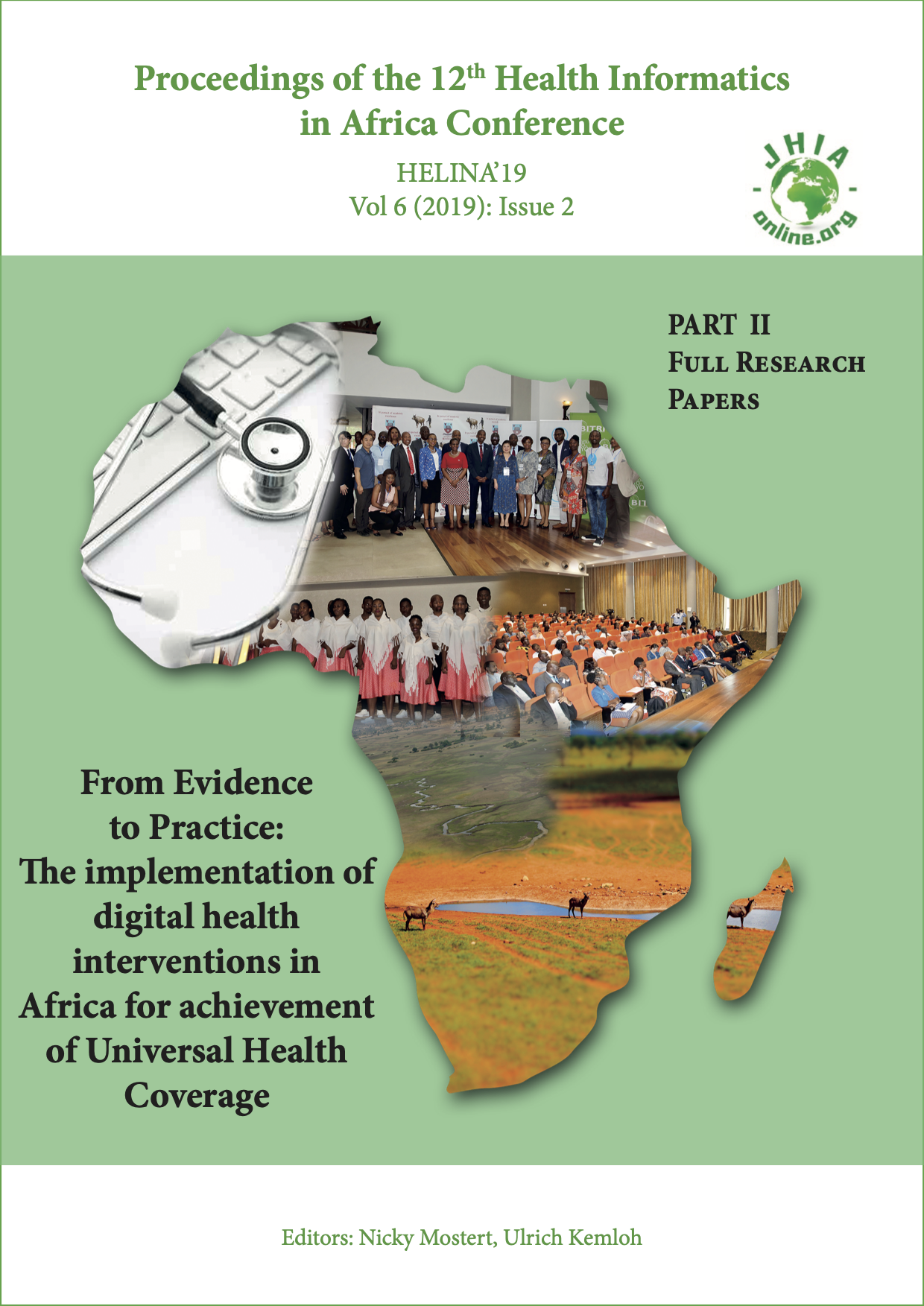 Downloads
How to Cite
Kabahuma, C., & Nabukenya, J. (2019). Managing Patient Identification in Uganda's Health Facilities: Examining Challenges and Defining Requirements for a National Client Registry. Journal of Health Informatics in Africa, 6(2), 26–35. https://doi.org/10.12856/JHIA-2019-v6-i2-234