The Digitalization of Routine Data Management at the Point-Of-Care: The case of Ghana
Abstract
Background and Purpose: Mobile technologies in the healthcare sector has the potential to address some data collection challenges in resource constraint settings. However, one main issue faced by mHealth users is the lack of users' acceptance since these technologies are designed to enable users to use them while mobile, thus the mobility impact of users is critical to measuring their success or failure. The purpose of this study is to explore the social environment that influences the usability of e-Tracker, among community health nurses at the point-of-care.
Methods: This was an exploratory and cross-sectional study design, using a combination of qualitative and quantitative approaches to data collection, applying both inductive and deductive analyses. A usability questionnaire was adapted, data was collected from 52 health facilities, and 5 interviews conducted between April – June 2018 from two health districts in Ghana.
Results: The study found that two of Norman's concepts of usability were evident. The nurses found the technology easy to use, access, manipulate, and quickly to capture and generate reports. The nurses were satisfied using the device as it made them more efficient and productive in performing their tasks, and more importantly, the offline feature enabled them to capture data even when they are in areas with no internet coverage. Of interest, were the challenges encountered by nurses due to the implementation and use of the device. Nurses were not confident using the tablet in front of clients. Data processing became time-consuming because they have to do twice as much work coupled with poor internet access and connectivity issues. These challenges, though inevitable, but need to be attended to because they influence the usability and continuity of nurses using the technology. If they persist, nurses might end-up abandoning the technology.
Conclusions: Though the device has the potentials of improving routine data collection, some social-environmental challenges hinder its usability.
Keywords: Usability, e-Tracker, mHealth Technology, Ghana Health System, Routine data management
Downloads
Download data is not yet available.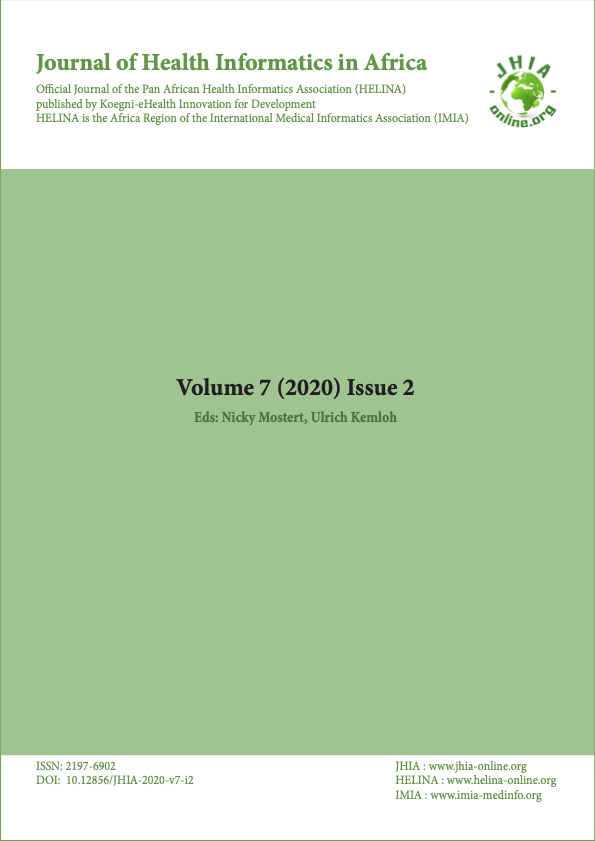 Downloads
How to Cite
Asah, F. N., Kanjo, C. ., Bright Msendema, M. ., Addo, H. ., & Divine Logo, D. . (2021). The Digitalization of Routine Data Management at the Point-Of-Care: The case of Ghana. Journal of Health Informatics in Africa, 7(2), 18–28. https://doi.org/10.12856/JHIA-2020-v7-i2-285