Editorial
Abstract
Editorial to JHIA Vol. 9 (2022) Issue 1
Nicky Mostert
Nelson Mandela University, Gqeberha, South Africa
The Journal of Health Informatics in Africa is the official journal of the Pan African Health Informatics Association (HELINA) and publishes the proceedings of the HELINA conferences, as well as open-call issues. This issue is the first open-call issue for 2022 comprising of two research papers submitted directly to the journal. These papers have been double blind peer-reviewed before being accepted for publication. Although papers written in French are also published by the journal, both papers in this issue was written in English.
The paper by Walusimbi and Wamema proposes a collaborative mobile application architecture to improve collaboration among healthcare providers at the point of care.
Mkayula, Mbise, and Mahundi investigated the challenges associated with Electronic Medical Record (EMR) interoperability between hospitals and make recommendations to improve interoperability.
I would like to make use of this opportunity to urge authors to ensure that only original, unpublished manuscripts are submitted to JHIA for review. All submissions are checked and if evidence of plagiarism or previous publication is found such a submission is immediately rejected.
I wish to thank the dedicated peer-reviewers that took time out of their busy schedules to assist with the review process. Also a word of thanks to the editorial team and authors who made this issue of JHIA possible. Your dedication is very much noted and appreciated.
Downloads
Download data is not yet available.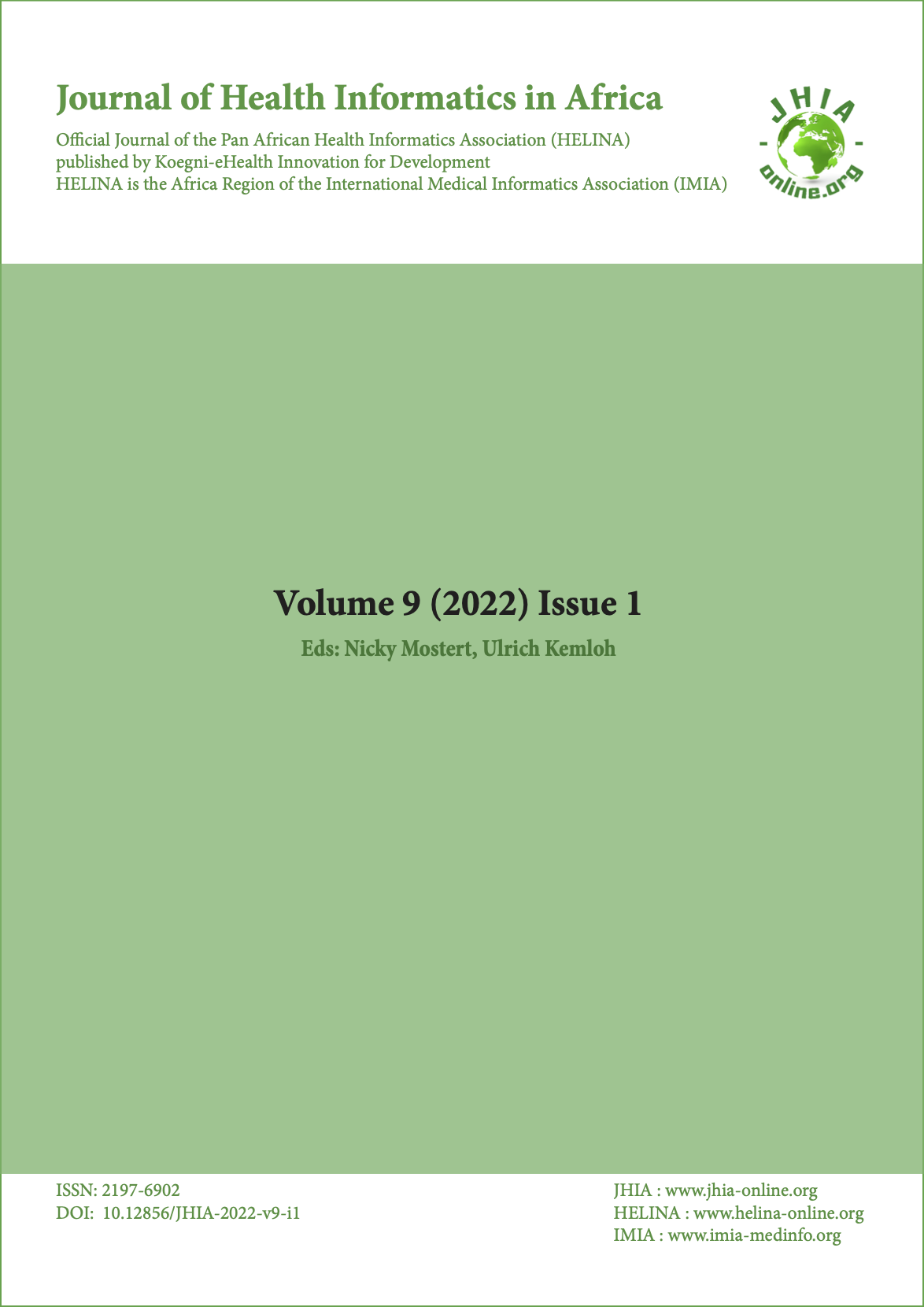 Downloads
How to Cite
Mostert, N. (2022). Editorial. Journal of Health Informatics in Africa, 9(1), IV. Retrieved from https://jhia-online.org/index.php/jhia/article/view/363