Cloud Computing for Health Information in Africa? Comparing the Case of Ghana to Kenya
Abstract
Background and Purpose: A number of African countries have in recent years deployed online, web-based health information systems (HIS). We look at the opportunities and challenges of this new architecture by comparing recent HIS implementations in Ghana and Kenya.
Methods: This article is based on several years of involvement by the authors in a large action research project (the Health Information Systems Programme) that focuses on developing and implementing health information systems. The project has a strong focus on active participation of the researchers in the research context, drawing on the Scandinavian tradition of participatory action research. All authors have been directly involved in the HIS implementations in Ghana and/or Kenya discussed in this article.
Results: We show how the two countries studied in this article, Ghana and Kenya, have rapidly transitioned from having an offline, decentralised HIS based on standalone software installations, to a new architecture that is online, web-based and centralised.
Conclusions: The cases of Ghana and Kenya demonstrate how a web-based, online architecture for HIS provides a number of advantages over the standalone, offline systems that have been the norm until recently. However, important aspects of such implementations, like developing skills and policies for system administration and ensuring system ownership need emphasis in order to ensure the long-term sustainability of these systems.
Downloads
Download data is not yet available.
References
HISP [Internet]. University of Oslo. Cited September 9. 2013. Available from http://www.mn.uio.no/ifi/english/research/networks/hisp/.
Health Metrics Network. Framework and Standards for Country Health Information Systems. Second Edition. Geneva: World Health Organization; 2008.
Lippeveld, Theo, and Rainer Sauerborn. A Framework for Designing Health Information Systems. In: Lippeveld, Theo, Sauerborn, Rainer, and Bodart, Claud, editors. Design and Implementation of Health Information Systems. Geneva: WHO; 2000.
Chatora, R, and P Tumusiime. Health Sector Reform and District Health Systems. Brazaville: WHO; 2004.
Simwanza, Alex, and Church, Mary. Establishment of an Information Culture: Achievements and Challenges in Zambia. RHINO Workshop on Issues and Innovation in Routine Health Information in Developing Countries. 2001: 227–237.
World Databank [Internet]. World Bank. Cited March 4. 2013. Available from http://data.worldbank.org/indicator/IT.CEL.SETS.P2/countries/ZG-GH- KE?display=graph
Fact about Africa [Internet]. AFRINIC. Cited March 4. 2013. Available from http://www.afrinic.net/images/doc/africa_by_numbers2.pdf
Nicholson, B. and Sahay, S. Embedded Knowledge and Offshore Software Development. Information and Organization. 2004;(14):329–365
Avgerou, C. Information systems in developing countries: a critical research review. Journal of Information Technology. 2008;23(3):133-146.
Silva, L. O. Outsourcing as an improvisation: A case study in Latin America. The Information Society. 2002;18(2):129-38.
Marston, S.; Li, Z.; Bandyopadhyay, S.; Zhang, J. and Ghalsasi, A. Cloud computing—The business perspective. Decision Support Systems. 2011;51(1):176--189.
Greengard, S. Cloud computing and developing nations. Communications of the ACM. 2010;53(5):18--20.
Bцhm, M., Leimeister, S., Riedl, C. & Krcmar, H. Cloud Computing – Outsourcing 2.0 or a new Business Model for IT Provisioning? Application management. 2011: 31-56.
Kuk, G. & Davies, T. The Roles of Agency and Artifacts in Assembling Open Data Complementarities. ICIS. 2011.
Chow, R., Golle, P., Jakobsson, M., Shi, E., Staddon, J., Masuoka, R. and Molina, J. Controlling data in the cloud: outsourcing computation without outsourcing control. Proceedings of the 2009 ACM workshop on Cloud computing security. 2009:85--90.
Julisch, K. and Hall, M. Security and control in the cloud. Information Security Journal: A Global Perspective. 2010;19(6): 299—309.
Uusitalo, I., Karppinen, K., Juhola, A. and Savola, R. Trust and Cloud Services - An Interview Study. 2nd IEEE International Conference on Cloud Computing Technology and Science. 2010: 712-720.
Bødker, Sussane, and Yngve Sundblad. Usability and Interaction Design – New Challenges for the Scandinavian Tradition. Behaviour & Information Technology. 2004;27(4):293–300.
Susman, Gerald I, and Evered, Roger. An Assessment of the Scientific Merits of Action Research. Administrative Science Quarterly. 1978;23(4):582–603.
Braa, Jørn, Eric Monteiro, and Sundeep Sahay. Networks of Action: Sustainable Health Information Systems Across Developing Countries. Management Information Systems Quarterly. 2004;28(3):337–362.
Manya, Ayub, Jørn Braa, Lars Helge Øverland, Ola Hodne Titlestad, Jeremiah Mumo, and Charles Nzioka. National Roll Out of District Health Information Software (DHIS 2) in Kenya, 2011 – Central Server and Cloud Based Infrastructure. IST-Africa 2012 Conference Proceedings. 2012.
Lee, M. IT Outsourcing Contracts: Practical Issues for Management, Working Paper #95/05. Information Systems Department, City University of Hong Kong. 1995.
Sherwood, J. Managing Security for Outsourcing Contracts, Computers & Security. 1997;(2): 603–609
Khalfan, Abdulwahed Mo. Information security considerations in IS/IT outsourcing projects: a descriptive case study of two sectors. International Journal of Information Management. 2004;24(1):29-42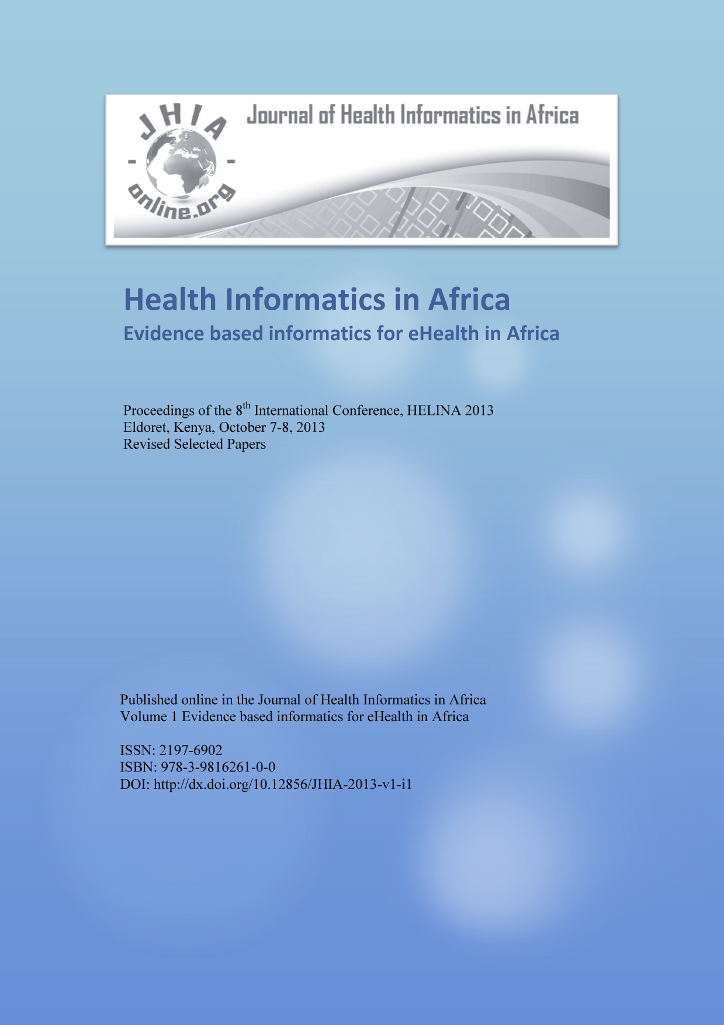 Downloads
How to Cite
Poppe, O., Jolliffe, B., Adaletey, D. L., Braa, J., & Manya, A. S. (2013). Cloud Computing for Health Information in Africa? Comparing the Case of Ghana to Kenya. Journal of Health Informatics in Africa, 1(1). https://doi.org/10.12856/JHIA-2013-v1-i1-45